Your Domain Name provides a first impression to your visitors on the Internet. It's important to have a domain name that communicates clearly to your potential customers.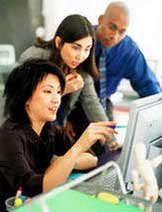 FREE with every domain: See Details
• FREE! Personalized Email
• FREE! Forwarding / Masking
• FREE! 100-Pack Email Forwarding
• FREE! Starter Web Page
• FREE! "For Sale" Parked Page
• FREE! Parked Page w/ Domain
• FREE! Total DNS Control
• FREE! Change of Registration
• FREE! Domain Name Locking
Manage Your Account:
Get Started Here:
Free Services included with every single domain name registration or transfer:
24/7 Tech Support by Phone & E-mail! Most companies offer only email support, and it can take up to 48 hours or longer to get a response. Call Us anytime at 480-624-2500.
Domain Forwarding and Masking! Point your domain name to any existing web address.
E-mail forwarding (up to 100)! Redirect e-mail sent to your domain to any existing e-mail address.
A "For Sale" page! Let folks know if you're looking to sell your domain name.
Change of Registrant! Other registrars may charge you $25 or more just to transfer registration of a domain to another person or company – we don't even charge you a dime.
Domain Name Locking! Prevent anyone from hijacking your domain name.
Status Alerts! Any changes on your account are always sent to you right away.
Total DNS Control! Manage your domain name server (DNS) records, set your email, FTP, sub-directories, web site location, and more.